12W Smart Wi-Fi LED Bulb -Multicolor A light fixture that can be controlled by a mobile phone
0
stars, based on
0
reviews
Price:
$69.00$41.00 / unit
Name:bulb/LED bulb/WIFI bulb/smart bulb/ light bulbs

Specification:
Project: Wi-Fi(Tuya)
WIFI bulb Material: Aluminum+Plastic
WIFI bulbHousing color: White
WIFI bulb Shape:E27/E26/B22 Fitting(Option)
WIFI bulb Input AC Voltage: 90-265V
WIFI bulb Wattage: 12 Watts ( Equivalent with 60W general Bulb)
WIFI bulb Angled Lighting: 270° Wide
WIFI bulb Lumen: 1100LM
WIFI bulb Usage: Indoor use only
WIFI bulb Connection: 802.11b/g/n 2.4GHz Wi-Fi
WIFI bulb CCT: 2700k - 6500K
WIFI bulb Multi-color: Multiple Color Options(White +RGB)
WIFI bulb Dimmable(via app)
WIFI bulb Alexa Voice Control and Google Assistant Compatible
LED bulb Lifetime : 25000h
LED bulb Certification:CE,Rohs,FCC
LED bulb CTN:450*358*305 MM(40pcs), GW:10.80KG
LED bulb Gift Box: 145*80*80mm, GW/pcs:0.25kg
Features:
LED BULB ALUMINUM+PLASTIC MATERIAL: Fashion and good heat dissipation.
LED BULB RGBCW COLORFUL LIGHTING: To meet different using(home or amusement).
LED BULB APP CONTROL: Be remote controlled by smartphone in anywhere anytime
SMART BULB VOICE CONTROL: Work with Amazon Alexa and Google Assistant.
SMART BULB 8 SCENES LIGHTING MODES: You could choose the favorite mode via App.
SMART BULB TIMER SETTING:Timer&Sunrise&Sunset
SMART BULB Turn on/off at a pre-set time.Wake up with favorite color
SMART BULB ADJUSTABLE COLOR TEMPERATURE:2700K-6500K to meet different environment requirement.
SMART BULB DIMMING OPTION:16,000,000 possibilities,slide slightly to make the color to meet your mode
SMART BULB MUSIC CONTROL MODE:The smart bulb will shining different colors when the music goes on.
SMART BULB ENERGY SAVING:Using high quality LEDs,Environmental protection and energy saving.
SMART BULB GROUP CONTROL:Set multi lights in a group and you can control them together.
Multi-functional energy saving light bulbs, solve a variety of lighting requirements ~

I was going to be on the boat. The energy saving light bulb used on, did not expect to use-some time found that its lighting effect is particularly good, light decay is also relatively low, but also very power-saving, I decisively changed the old light bulb at home, from 12v~60v energy saving light bulb , to 220V daily model, so that every corner of my home has become bright,Light bulbs make a big difference!
Light bulbs uses LED energy-saving chip, LED energy saving light bulb compared with the same watt bulb I bought before, energy saving light bulb will be brighter and more stable, energy saving light bulb no stroboscopic,energy saving light bulb can take care of our eye health, especially in machine tools, mines and other places lighting, energy saving light bulb is not prone to failure, affecting the progress of work.

This energy saving light bulb has two kinds of light sources: White light and warm white light. Always good, will not let the color distortion of the object, acrylic lampshade light transmittance good, can 270 °luminous, and than the ordinary glass lampshade more resistant to fall, not easy to damage.You can also use your phone to control smart bulb.
Energy saving light bulb general E27 screw port before installation does not need to be specially compared, save heart and labor, waterproof and moisture-proof style can have a long service life even in wet environment, energy saving and environmental protection is prominent, our family has changed to energy saving light bulb!
Method of use:

Smart bulb Voice Control, Works with Alexa, Google Assistant: Smart bulb can free your hands to control the light. Use simple conversation starters to turn your lights on and off, set color, make them brighter. It is currently compatible with Echo & Google Home.
WiFi and Bluetooth Control via App: The app "Alexa" does what the lights can do (turn on / off, change color and brightness). They are fully Smart bulb and via the phone app, you have all of the colors to select. You can DIY your favorite brightness by mixing several brightness and keep it for later use. Timer function allows you run your home light system in smart way.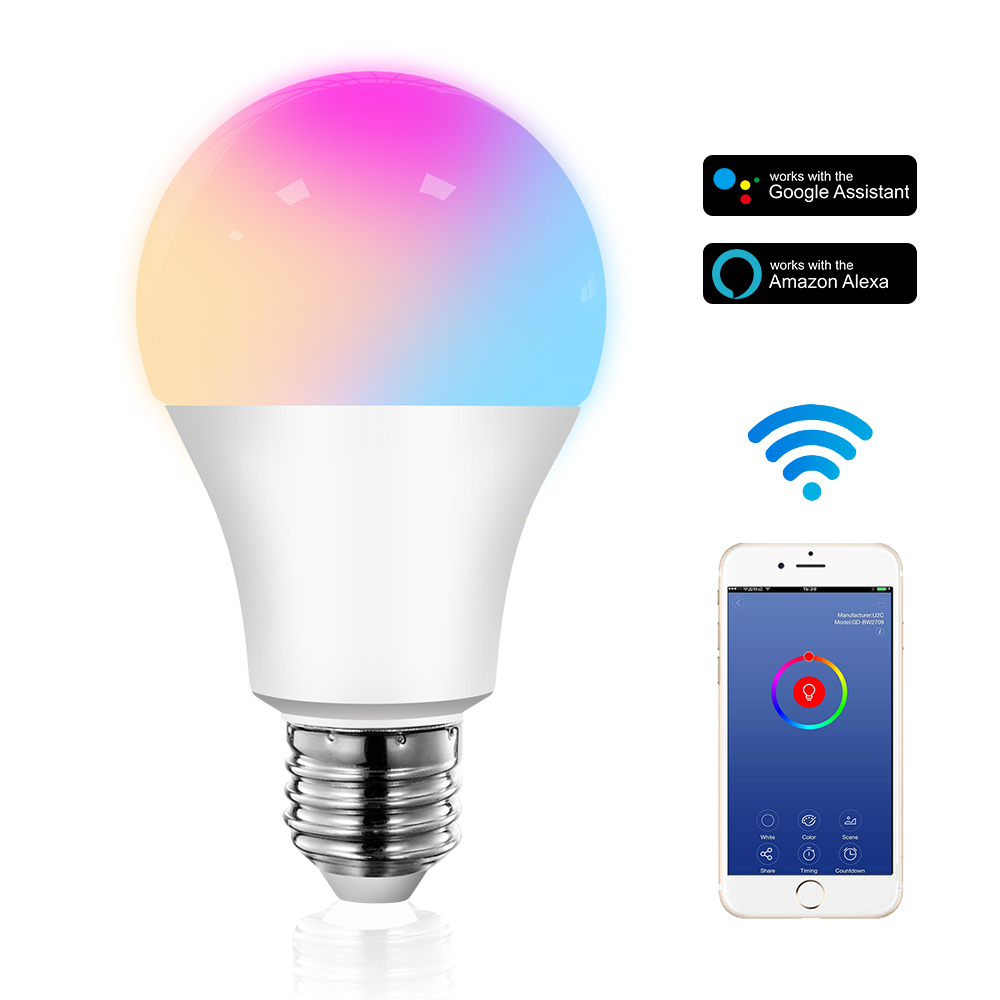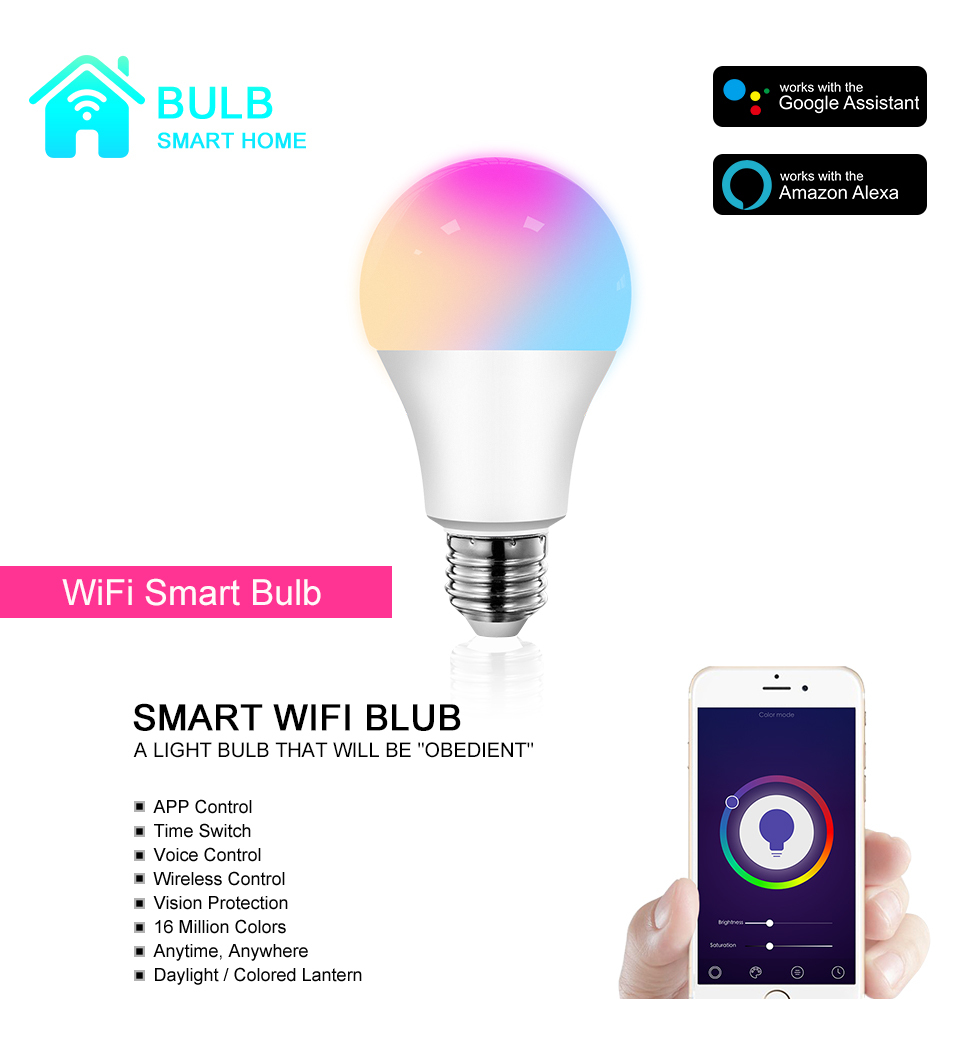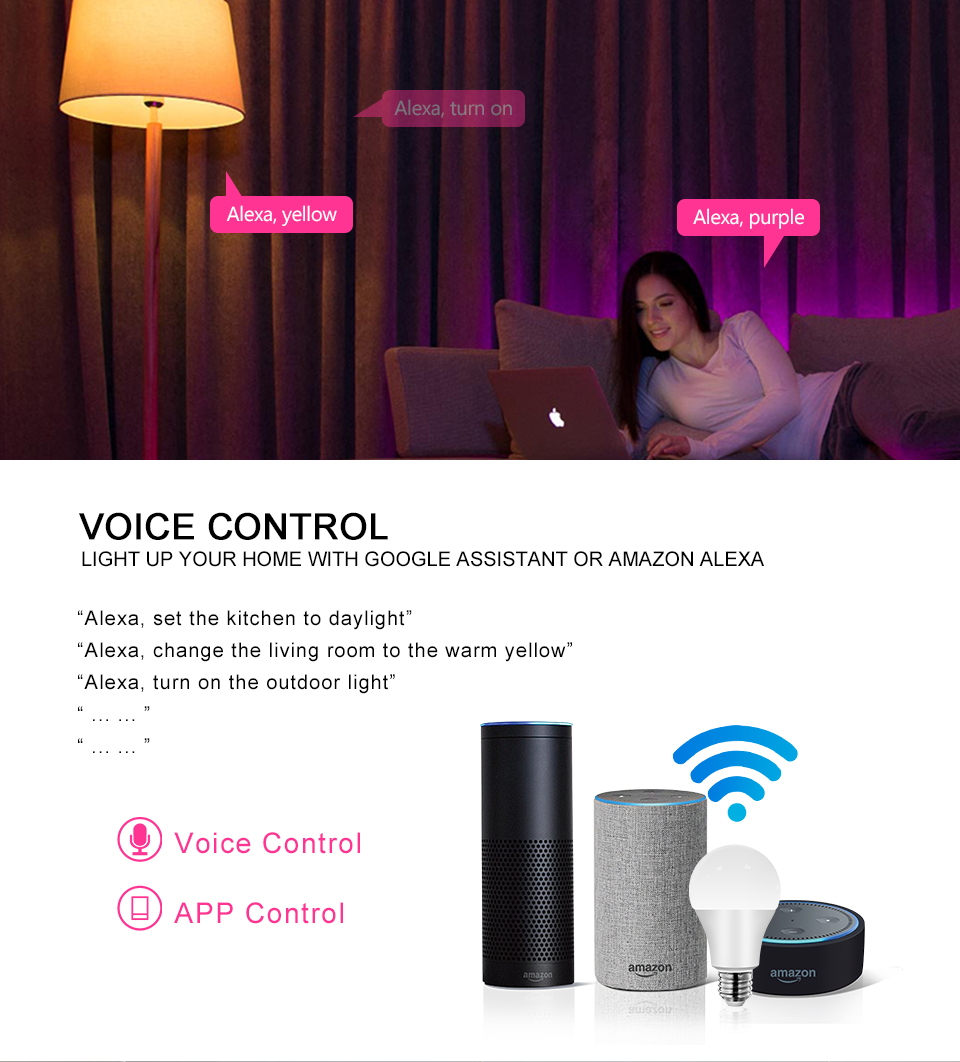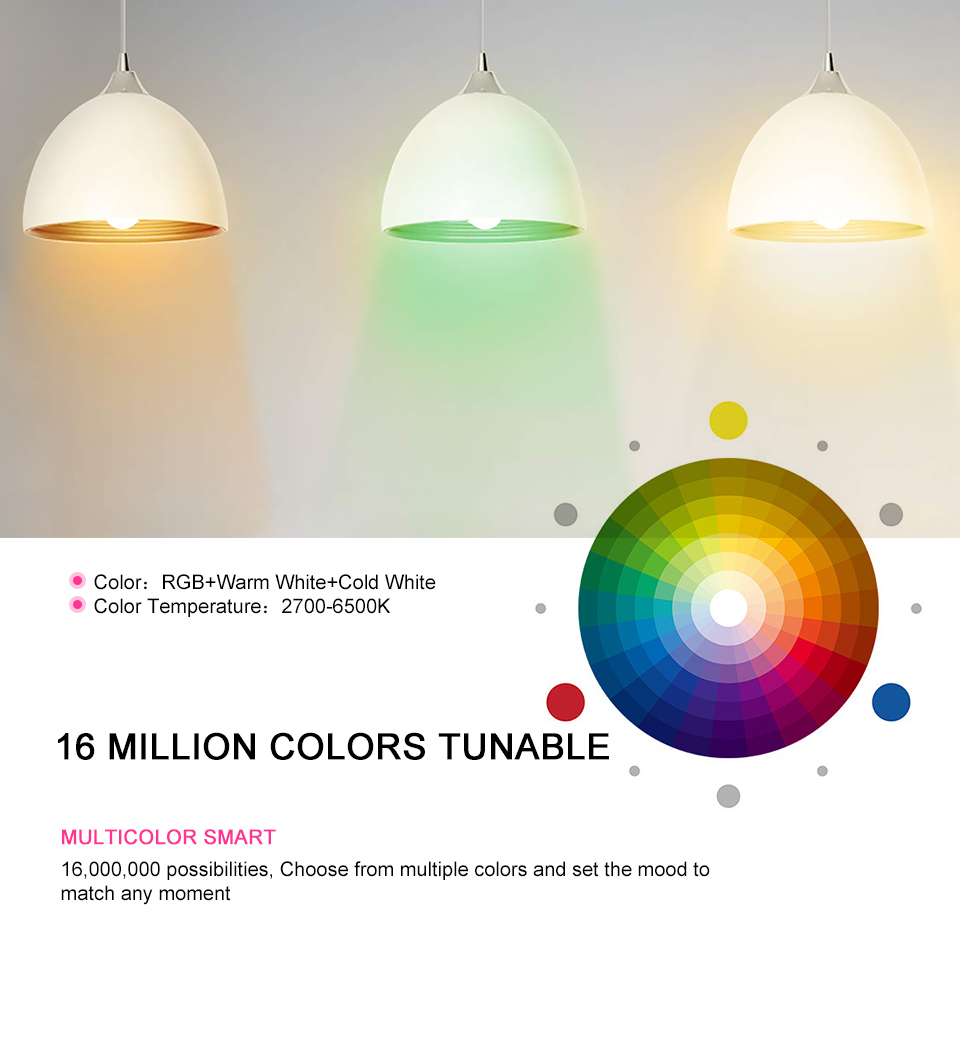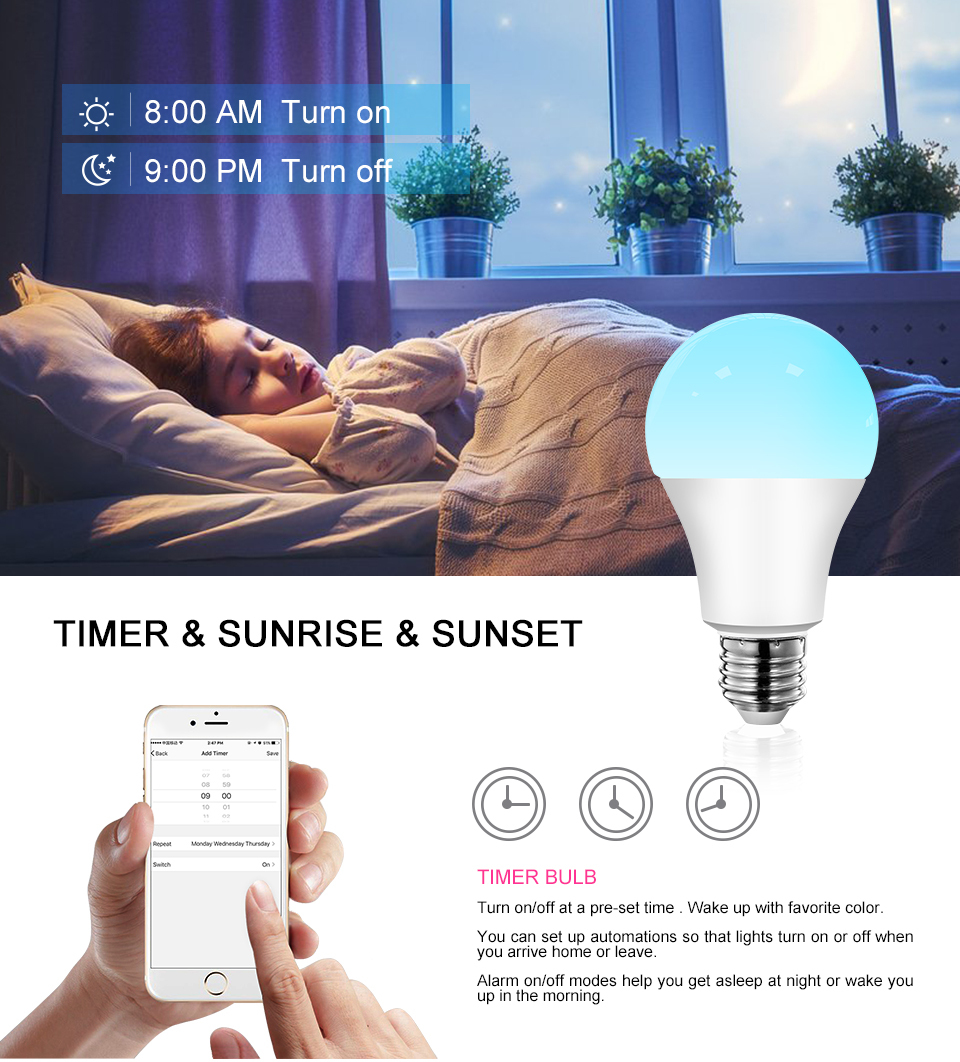 Wifi / Zigbee Smart Led Lighting